Our Commitment
To You
---
We are committed to offering you the best possible independent financial advice and customer service in line with the Consumer Duty. We will always look after your best financial interests and treat you fairly. We build long-term financial partnerships with the individuals and businesses we work with, based on trust developed through the application of Lonsdale's core principles of integrity, reliability, and value.
Cost Effective
Financial Advice
---
We are committed to our long-term investment philosophy that emphasises quality and diversification alongside face-to-face financial advice. Our experience has shown that this is the best way for you to achieve your financial goals. We consider all our customers to be unique and deliver financial solutions solely created to match your specific needs. This enables us to deliver financial solutions in a professional and cost-effective manner.
Independent
Financial Advice
---
As Lonsdale Services is an independent privately owned business, we can afford to look after your best interests and offer you the most appropriate financial advice. We believe that professional advice can add significant value and we are committed to offering you or your company the best possible investment advice.
Integrated
Financial Advice
---
Our ability to work in close collaboration with you to provide exceptional customer service has resulted in an enviable reputation for retaining our customers; and we have long standing relationships with most companies and individuals we work with. Working with professional intermediaries provides customers with more joined up legal, tax and financial advice.
Focus on
Vulnerability
---
At Lonsdale Services we aim to identify and assist customers and prospective customers who may be considered as being vulnerable by virtue of their age, disability, or other circumstances. In 2021 we won the Best Adviser firm for vulnerable client care at the National Professional Adviser Awards.
Lonsdale Services
Awards
---
In 2022 Lonsdale Services was voted in the FT Adviser Top 100 UK Financial Advisers. In 2018 we won the Retirement Planner (RPA) Award for Best Individual Pension Advice firm in the South-East and Anglia and were 'highly commended' in the Estate Planner Adviser category. In 2017 we won the RPA Outstanding Customer Care award.
Our Commitment to you
We Will:
Act in your best interests.
Provide you with clear information about the financial products and service we offer, including fees and charges before you invest.
Provide financial advice that is not dependent on you purchasing a product.
Ascertain your financial circumstances, needs, any vulnerabilities, risk profiles and other preferences before making a recommendation.
Only recommend a suitable course of action that you can afford.
Explain the risks and impact of the financial advice we give you in a way you will understand.
Encourage you to ask if there is something you do not understand.
Provide solutions to meet your long-term financial goals.
Make you aware that investments can fall, as well as rise, and you may not get back the full amount invested.
To help us give you the most appropriate financial advice, we ask you to:
Be honest about your personal, financial and company circumstances, needs, preferences and objectives. Our advice will be based on the information you give us.
Keep us informed of any change in your financial circumstances.
Provide financial advice that is not dependent on you purchasing a product.
Inform us before you act on our financial advice if you do not understand the risks and potential impact on your future finances.
Always let us know if you don't understand our recommendations.
Tell us how we can improve our service.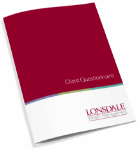 Lonsdale Risk Assessment Questionnaire
The Financial Ombudsman Service (FOS) is an agency for arbitrating on unresolved complaints between regulated firms and their customers. Full details of the FOS can be found on its website at www.financial-ombudsman.org.uk.
Need financial planning advice?
If you would like a free initial financial planning review, complete the form below, or contact our St Albans, Barnet, Harpenden, Leeds & Bradford, Stafford, Ringwood, Ware or Chippenham office.