The Benefits
Of a Workplace
Pension Scheme
---
Retirement planning is a key part of any employee benefit solution as employers must offer staff the opportunity to invest in a qualifying workplace pension scheme. We listen to your company requirements, and work with you to set up a suitable workplace pension. Many employees will want to join your workplace pension as pension schemes are tax efficient investments. Your colleagues can benefit from your employer contributions and pension tax relief.
Choosing A Suitable Workplace Pension Scheme
---
Pension legislation is complicated, but our experienced benefit consultants can inform and educate you about your choices. Using our pension planning knowledge and experience we ensure your company invests in an adaptable pension scheme that suits the lifestyle and retirement needs of your workforce. We provide cost-effective independent financial advice using both active and passive fund solutions and sustainable investment options.
Workplace Pensions
Offering Flexible Pension Advice
---
We offer a flexible pension advice service that can be tailored to your requirements or the needs of your individual employees. Our benefit consultants can arrange to meet individual employees, or we offer group pension advice sessions. As your employees' approach retirement, they may need pension advice. Should they purchase an annuity? access flexible benefits? or take their pension in a lump sum at retirement?
Book an employer consultation
Helping your employees save for retirement
Our pension advisers can:
Determine how much to save
Decide on appropriate investments
Understand and explain the benefit of pensions
Review alternative pension schemes
Regularly review your employees' goals
Our approach to retirement planning utilises various products including:
SIPPs
Personal pensions
Stakeholder pensions
Group Personal pensions
Occupational pensions
Annuities
Income drawdown
Alternatives to pensions
Phased retirement
Flexi access drawdown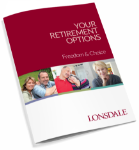 Your Retirement Options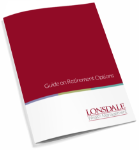 Your Retirement Guide
Lonsdale Services is listed on the Money Advice Service's Retirement Adviser Directory. The Money Advice Service is an independent service, set up by government to help people make the most of their money, they give free, unbiased money advice to everyone across the UK.
Need Employee Retirement Planning advice?
If you would like a free initial consultation to discuss Retirement Planning for your employees, complete the form below, or contact our St Albans office.