Protecting Customers
---
The Consumer Duty promotes a higher standard of service and care for customers, improves culture and extends product governance and fair value rules. In line with the Consumer Duty our company objective has always been to put our customers needs first by offering personalised independent financial advice on an ongoing basis.
Lonsdale
Values
---
We offer customers customised investment plans appropriate for their personal circumstances and appetite for risk, so they achieve their long-term financial goals and objectives. We also provide the highest standard of customer service, through our core values of integrity, reliability and always offering fair value to customers.
Our
Customers
---
The Consumer Duty focuses on financial advice and customer support for customers living in vulnerable circumstances. In 2021 Lonsdale Services won the Best Adviser firm for Vulnerable Client Care at the National Professional Adviser Awards. We continue to prioritise customers living in vulnerable circumstances, as our Vulnerable Client Group meets regularly to discuss how we provide guidance on new regulations.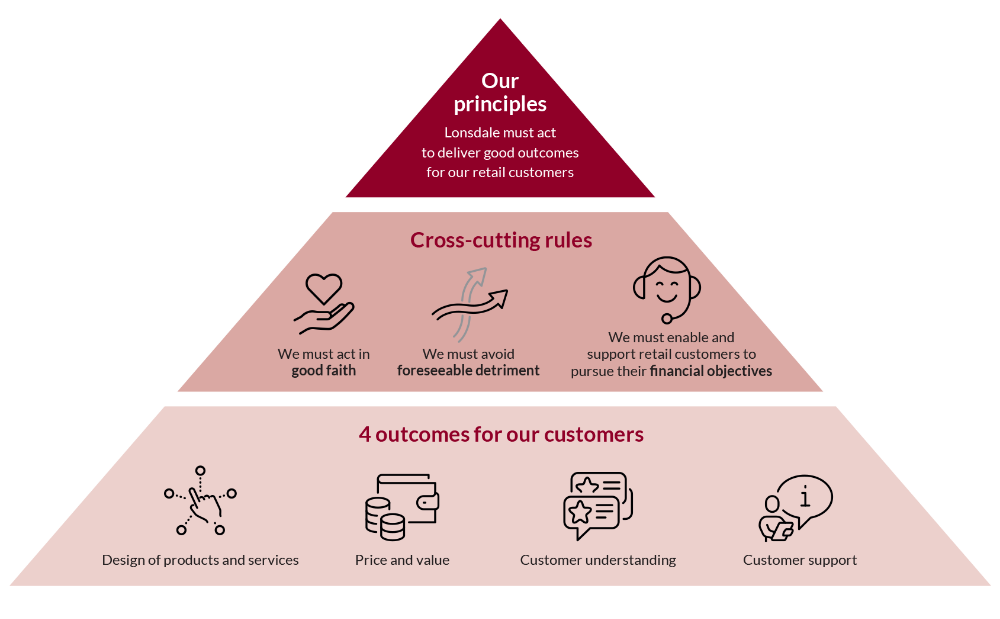 As our financial planning teams have always prioritised fair value for customers, Lonsdale Services is well placed to adapt to the new Consumer Duty principles. Lonsdale Services colleagues have completed Consumer Duty training, so they know what changes are required when offering you financial advice. We have also set up a working party to review our products and services and the fees we charge to ensure we continue to offer customers fair value."
Need financial planning advice?
If you would like a free initial financial planning review, complete the form below, or contact our St Albans, Barnet, Harpenden, Leeds & Bradford, Stafford, Ringwood, Ware or Chippenham office.