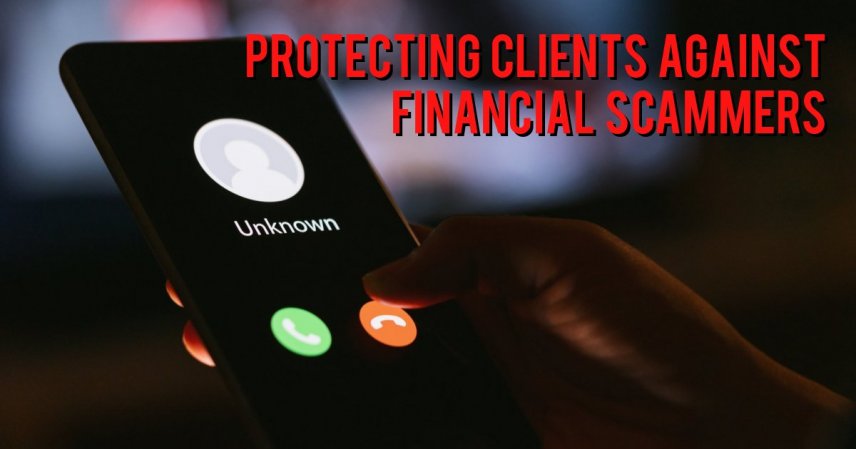 How our financial advisers protect our clients from financial scammers
Allan Ross financial adviser - Protecting clients against financial scammers
Tuesday 7 December, 2021
Keeping your finances safe is our key priority, so we recommend you contact your financial planning team via your secure client portal if you want to share any financial information.
Client financial scam
We recently had a client contact us who received a phone call from an 0800 number that turned out to be a scam. The caller said they were 'from the Prudential & had spoken to our Financial Adviser....' The client said they weren't interested and replaced the handset. They looked up the phone number on the internet and realised it was a scam phone call.
Your financial planning team
Please note that only members of your financial planning team will contact you, and if you don't recognise the voice of the person you are speaking to you can call the office telephone number available on our website to check their identity.
https://www.lonsdaleservices.co.uk/contact-us
How we protect your investments
Similarly, our financial planning teams are very careful and conduct due diligence on any requests from you relating to your financial planning.
It is Lonsdale Services company policy to always speak to clients and confirm identity before acting on withdrawal requests. We always ask relevant security questions so we can identity clients and ensure withdrawal requests are genuine. We will then only action a withdrawal to a nominated bank account in the client's name.
How to spot a financial scam
Scams can take various forms and often look legitimate, but it is always best to be cautious if you receive information, you are not sure about. We recommend that consumers are wary if they are investing in any products that have the warning signs of a scam. For example, special offers, unusually high rates of return, phone calls, emails, or letters from strangers. Please follow the FCA guidelines and check the FCA's website for current financial scams.
Below are several things you can do to protect you and your family.
Be suspicious of a company contacting you for the first time
Check the identity of the person and company calling you to check they are legitimate
Take your time before making a financial decision
Don't be rushed into talking to someone or purchasing from them. If you have an email that you think is a scam don't respond. Any legitimate business will get back in touch with you.
Don't give out personal information on the telephone to someone you don't know
Be suspicious of any badly written, grammatically incorrect emails or letters.
Only use secure websites
Secure websites have a padlock sign in the browser when you open the website
Get virus protection on computers and phones
Purchase anti-virus protection for your computer
'There are a variety of financial scams that are circulating. Over the past year the Covid 19 financial support scam has seen fraudsters pretend to be government departments and send fake emails suggesting entitlement to a claim. According to The Times £78 million was lost by pension and investment victims in 2020. As our client example demonstrates, fraudsters are pretending to be genuine investment firms to steal money from people.'
'New regulations were introduced on 30th November 2021 so suspicious transfers can now be stopped as pension scheme managers and pension trustees are issued with new powers to intervene. This is positive news as pension transfer requests can now be halted if those involved recognise signs of fraud, and the Government is working closely with The Pension Scams Industry Group and the regulators to protect pensioners. We recommend that If you receive phone calls, emails or suspicious financial post please call your Lonsdale Wealth Management financial adviser or anyone in your financial planning team.'
For more information about financial scams read our recent article – Steve Cook, independent financial adviser - Tips to spot Covid 19 related scams.
Latest News
Next Article
Previous Article