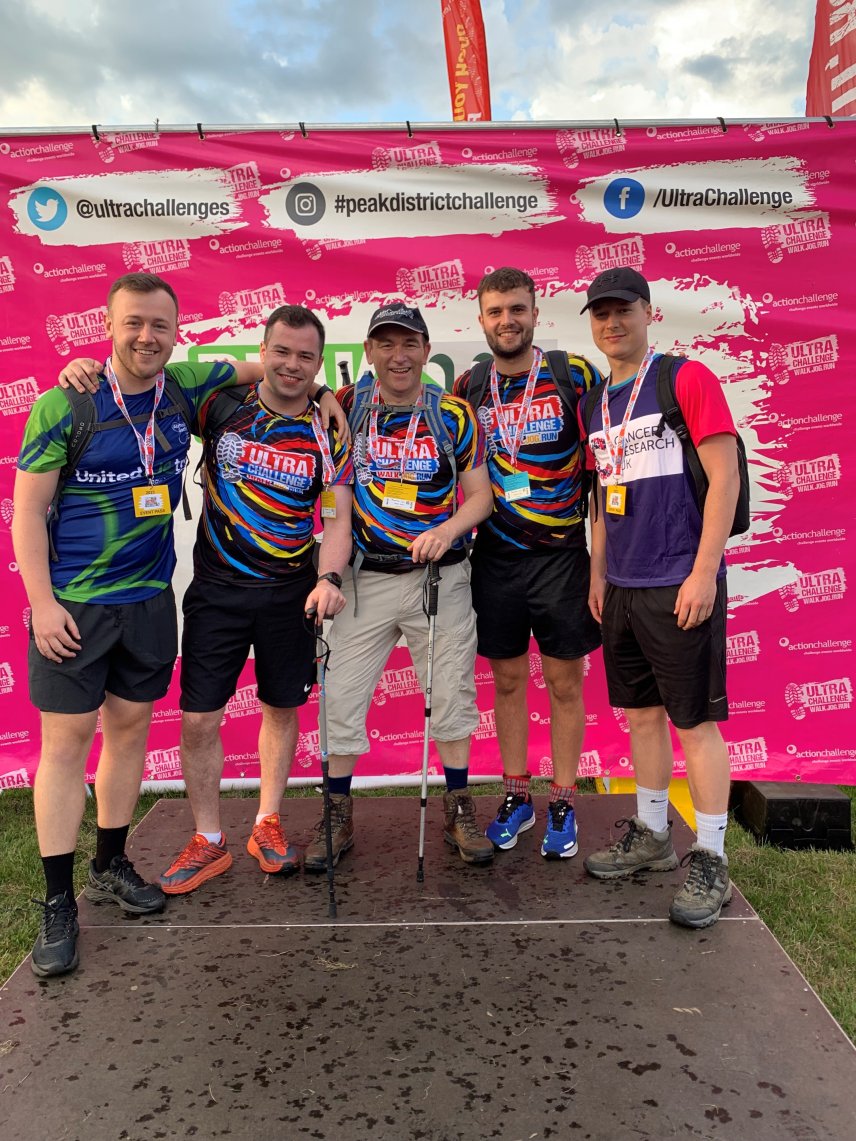 Lonsdale team complete 2023 Peak District Challenge
Lonsdale Services team complete 100km Peak District Challenge
Thursday 10 August, 2023
On the 8th and 9th of July Simon Hawker, Jacob West, Conor McClean, Conor Muldoon, and Joe Wicks walked the 100km Peak District Challenge and fundraised for the Alzheimer's Society.
To date the team have already raised over £3680 and their Lonsdale Wealth Management Peak District Challenge Just Giving page is still open.
'Walking the 100km Peak District Challenge over two days was difficult, especially when we had to rally ourselves to get up and walk again on the second day. I completed the 100km Cotswold Challenge in 2021 with a different Lonsdale team, so I knew what was in store, but this is the first time the others had done a walking challenge. Thank you to everyone who sponsored us. Our original fundraising target was £2,000 but we have exceeded that target. As a corporate partner of the Alzheimer's Society, we work hard to regularly fundraise for the charity and since 2017 colleagues at Lonsdale Services have raised over £12,500 for the Alzheimer's Society through various fundraising events. It's great to support the charity, as some of our clients are affected by Dementia and some colleagues have experienced Dementia first-hand within their own family. Some of the team also fundraised for other charities. Conor Muldoon walked for Prostate Cancer UK and raised a further £720, and Joe Wicks raised £820 for Cancer Research UK.'
Conor Muldoon, trainee financial adviser, St Albans said:
'It was the hardest challenge I have ever undertaken! The Saturday was enjoyable (to an extent), at least the weather was ok, but the walking was hard. What I found difficult was stopping on Saturday night and then having to go out and walk a further 50km on Sunday. It was hard to keep walking on the final day, but I am proud to have finished and glad I took part.'
What is the Peak District Challenge?
The walk took the Lonsdale Wealth Management team from base camp in Bakewell through the beautiful scenery in the Peak District National Park on a 100km loop back to Bakewell. The team were supported on the day by the Alzheimer's Society, with food and rest stops during the trek.
For more information read:
Lonsdale launches 10 point plan for anyone living with Dementia
Lonsdale Wealth Management announce partnership with the Alzheimer's Society,
Lonsdale Services voted in top 100 advisers in UK
Lonsdale Services win professional adviser award – Best Adviser Firm for Vulnerable Client Care
Latest News
Next Article
Previous Article