Richard Porter, Director & Independent Financial Adviser receiving the Best Pensions Advice Firm award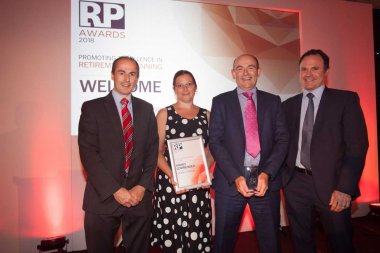 Lonsdale Wealth Management team - Simon Hawker, Richard Porter, Allan Ross, Natalie Rispin
Lonsdale Services win Best Individual Pension Advice firm in 2018 RPA Awards
Wednesday 20 June, 2018
On June 15th 2018 Lonsdale Services won the Best Individual Pension Advice firm award for the South East and Anglia region, at a Retirement Planner Awards dinner at the Waldorf Hilton London. Eight financial planning companies were shortlisted in this category.
'Lonsdale Services is delighted to win the best individual pension advice firm award and to be runner up in the Estate Planner category. This follows our success last year when Deb Nolan independent financial adviser in our Leeds / Bradford office won the Outstanding Customer Care RPA Award. As an independent privately owned business we look after our pension clients' best interests by always offering them the most appropriate financial advice. Our financial advisers differentiate our pension advice offering because our key goal is to educate our clients before offering financial advice. Whenever our pension advisers work with clients we apply our core principles of integrity, reliability and value which form the basis of our Client Charter. We operate a team based culture and encourage colleagues to work together and contribute ideas to improve our pension advice process across our Lonsdale Wealth Management offices in St Albans, Barnet, Harpenden, Stafford, Ware and Leeds / Bradford.'
The Best Individual Pension Advice category was open to financial advice firms and wealth managers that offer advice on pensions and retirement options to individuals. To be considered for the Best Individual Pension Advice firm award Lonsdale Services entered a 1,000 word submission detailing how Lonsdale Wealth Management is improving retirement planning for individual pension clients. The submission included an example of how Lonsdale Wealth Management charge an individual client for pension costs and retirement advice costs, including the initial and ongoing pension advice fees, product charges and platform charges. The submission explained how Lonsdale Wealth Management use technology like Voyant cash flow modelling and Intelligent Office to support individual pension planning.
Retirement Planner Awards - 2018
The Retirement Planner Awards are in their fifth year. According to Julian Marr, Editor in chief of Retirement Planner who presented the awards, 'they highlight so much that is good and positive about the sector today - recognising and rewarding advisers and companies who have proved themselves to be at the forefront of the provision of dynamic and fresh approaches to retirement planning and pension advice and services.'
For more information read: Allan Ross Independent Financial Adviser Ware 'highly commended' in best Estate Planning Adviser of the year at RPA Awards; Lonsdale Services win Retirement Planner Outstanding Customer Care award in 2017
Latest News
Next Article
Previous Article