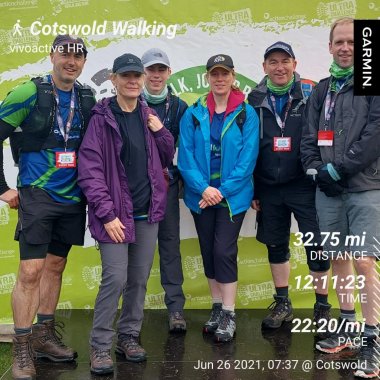 Our Lonsdale Services team fundraise for Alzheimer's Society in Cotswold Way Challenge - June 2021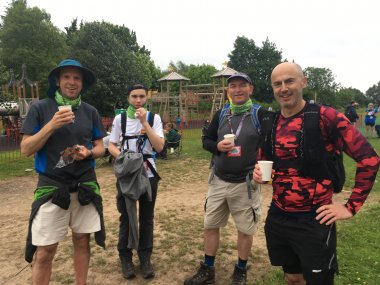 Our Lonsdale trekkers preparing to walk the Cotswold Challenge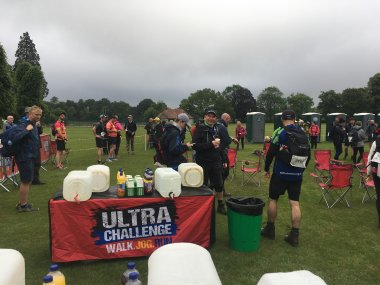 Getting refreshments during the Cotswold Challenge
Lonsdale Trekkers complete 100km Cotswold Way Challenge
Friday 2 July, 2021
On 26th and 27th June, Simon Hawker, Tracy Gannon, Deb Nolan, Stewart Sims-Handcock, Allan Ross, and Ben Hawker walked the 100km Cotswold Way Challenge and fundraised for the Alzheimer's Society.
To date the team have already raised over £5,500 and their Just Giving page is still open.
'Walking the 100km Cotswold Challenge over two days was really exhausting, especially when we had to camp out on the floor overnight, having already walked 30 miles! But we all rallied the next day at 5am and completed the challenge. Our feet are blistered and sore, and I don't want to do any long walks any time soon. Thank you to everyone who sponsored Hawkers Hikers. Our original fundraising target was £2,095 but to date our team has raised over £5,525 for the Alzheimer's Society. As a corporate partner of the Alzheimer's Society, we work hard to regularly fundraise for the charity. During the last few years, we raised over £5,700 for the Alzheimer's Society through various fundraising events, but unfortunately, we couldn't do any fundraising challenges last year because of the pandemic. It's fantastic that Lonsdale colleagues have now raised over £10,000, as some of our clients are affected by Dementia and some colleagues have experienced Dementia first-hand within their own family.'
'On Saturday, the weather was hot on the walk and whilst the hills were not the highest, we have encountered, the steepness was unbelievable and there were so many climbs and drops, you were just hoping and praying, when you finished the last one, it was going to be over – but not so! It was relentless and by the end of the day we were exhausted, people had horrendous blistered feet and bruising, also aching knees, cramping legs – you name it – somebody had it.
We camped at the end of day one and due to the noise on the campsite and sleeping on a one-inch thick mat, we didn't get much sleep, so another day of walking on very little sleep was going to be tough.
Day two was flatter but still hard. We had an early start – and had to be up about 5 am to get ready to pack up, get our kit ready and have breakfast before setting off again. Lots of participants had started out with sore feet and legs, so it wasn't going to be an easy day. The support from other walkers was humbling; taking time out of their own walk to see if they could assist or motivate us to go further. The fact that we had received so much sponsorship from our friends, family, colleagues and clients, kept us going as we didn't want to give up and let anybody down. Lots of tears, grunts, and groans on the last day, but I am proud we all made it.'
'I really would like to thank the Cotswold Challenge organisers. The event was brilliantly organised. From the moment we arrived, to when we left, the organisers did their utmost to ensure that nothing was too much trouble. They were so efficient. We knew where to check in, register, drop baggage for the transfers to halfway, and then to the finish line the next day. There was plenty of hot and cold food available, plenty of snacks and drinks at the rest stops and the encouragement from the staff was amazing. Paramedics on site to help with injuries, sports masseur's available to give your aching limbs or back a good massage at the end of each day. They had staff at rest stops to answer questions and, on the walk, they were encouraging and helping us to finish if we were wavering!'
What is the Cotswold Way Challenge?
According to the Cotswold Way Challenge organisers, 'the looped route through the heart of the Cotswolds, provides a stunning setting for 2,000 adventurers to test themselves. There are rolling hills, villages, the magical Cotswold Way, footpaths & trails, with some fabulous views en route – and a few tough hills in between!'
For more information read:

Lonsdale team take part in Cotswold Challenge and fundraise for Alzheimer's

Lonsdale runners complete 10km challenge for Alzheimer's Society,
Simon Hawker, IFA St Albans – Lonsdale raise £6,400 for charity,
Lonsdale launches 10 point plan for anyone living with Dementia
Lonsdale trekkers complete Trek 26 and raise £3,600 for the Alzheimer's Society,
Lonsdale Services headline sponsor of Alzheimer's Hertford carol concert,
Lonsdale Wealth Management announce partnership with the Alzheimer's Society,
Allan Ross, independent financial adviser Ware qualifies as a Dementia Friend,
Latest News
Next Article
Previous Article